Ordering Information
Belt Sizing Explained
Swash-Bucklers belts come in sizes with a five inch range. This is so you can wear the belt at your waist or at your hips.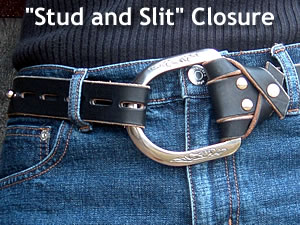 When choosing a belt that has the "Stud and Slit" type of closure, your largest girth measurement should be for where you want the belt to fit on your torso. Each one of us is unique and it is up to you to decide your preference for belt fit. Swash-Bucklers belts can be worn with high or low cut jeans, on a dress at the waist, or below the waist.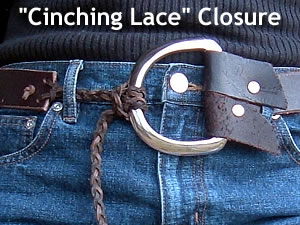 "Cinching Lace" type of closure requires your smallest girth measurement to be worn on your torso. Otherwise, it will be too small for slacks/jeans that are not low cut.
Please Note: Belts with bits require skipping the two front belt loops when worn with jeans!
Dual Color Option Explained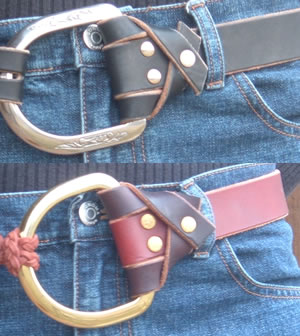 Belts with dual color options available can be made with contrasting colors or the same color leather as shown in these examples. When a belt has a "Multi-Color" option such as Black/Tan, Black is the main color of the belt and Tan is the added color.
Disclaimer
Each belt is custom-made for you according to your option choices. Each belt may vary slightly from the photos on this site. However, we believe that your belt will be perfect for you. We know you'll enjoy the wonderful reactions you will get when wearing your new belt in public! Please allow up to two weeks for your custom order.
Return Policy
If you are not completely satisfied with your Swash-Bucklers belt, you may return the unworn belt, postmarked within 7 days, for a full refund of the belt price (shipping charges excluded).
Shipping Rates
Shipping charges are based on the actual weight of your order. The average weight of each belt is stored in our database and the shipping cost is precisely calculated to the exact ounce of your order based on your shopping cart selections.
We ship using the Priority Mail service of the United States Postal Service.
If you need other shipping arrangements, please call or email.
Product Prices
Prices are in US DOLLARS and are subject to change without notice. The prices shown are current as of February 20, 2018.
Payments
We currently use PayPal for accepting credit card payments. You DO NOT need a PayPal account to use this free service!
We never see your credit card information because it is all handled through a SECURE CONNECTION with PayPal. This is an extremely safe way for you to pay and we have never had a problem using PayPal's services.
PayPal accepts VISA, MasterCard, Discover, and American Express. If you have a PayPal account, all you need is your email address, no credit card information needed. Now that's safe!
Receipt
Your online order will include an itemized receipt from PayPal which will be sent to your email address. Some Internet Service Providers use over-zealous anti-spam protection and may block your email without your knowledge. Please make sure that your email program does not block email from www.paypal.com or www.swashbucklersbelts.com.