About Us
My name is Janet Strait. I grew up in what used to be rural Kentucky. Some of my greatest memories are the days spent grooming, caring for and riding horses. Those experiences gave me the opportunity to enjoy my love of horses and nature at the same time. People at the shows we attend always ask, "How did you come up with this idea for the belts?"
Most of my life was limited to making things from patterns and I finally allowed myself to be creative! I have always liked horses and the smell of leather. The belts seemed like a good way to combine the two for a unique wearable accessory!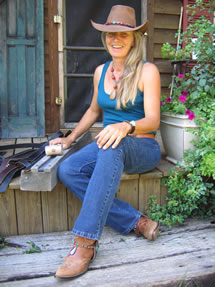 If you also like the unusual...you will love the reaction you get when wearing our line of belts. People either know what the hardware is and they can't believe you are wearing it or they are just trying to figure out what the belt is made of. I rarely leave home without one style or another. Hope you enjoy your belt style as much as we have!
Thanks for visiting our website!
Janet and Megan