Welcome!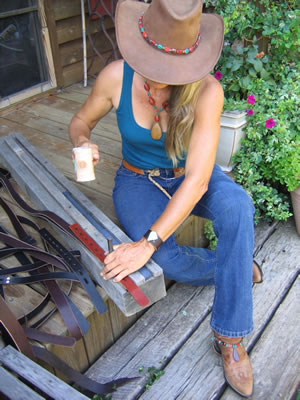 Thank you for visiting Swash Bucklers!
Janet Strait here and my desire is to add "a new style for your attire" with Swash Bucklers original line of Naturally Created and Wildly Unique belt varieties! All belts are 9-10 oz. leather, 1-3/8" width (unless otherwise specified) made with the best quality U.S. English bridle leather and are applied to equestrian hardware. All belts are made by hand and I strive to be consistent with the photos, feel sure any slight variation will be completely acceptable!
If you, like I, desire a customized look...this is your opportunity to offer creative ideas for designing the perfect belt for you! I like to call the 2-1/2" or 3" belts my You-nique Styles! If an unforgettable impression is desired...Swash Bucklers Belts are for you! Maybe just a stare, a questionable look or a great conversation. One thing I know for sure...all of the above put a smile on my face, bet you'll be wearing one too! Together we can design and create a belt exclusively for you. Your input will certainly be instrumental in my creative process!
Be sure to visit often and view latest items available to you! There are more just waiting to be posed for a photograph!
Look forward to working with and for you!
Join me on
facebook!
Janet Strait